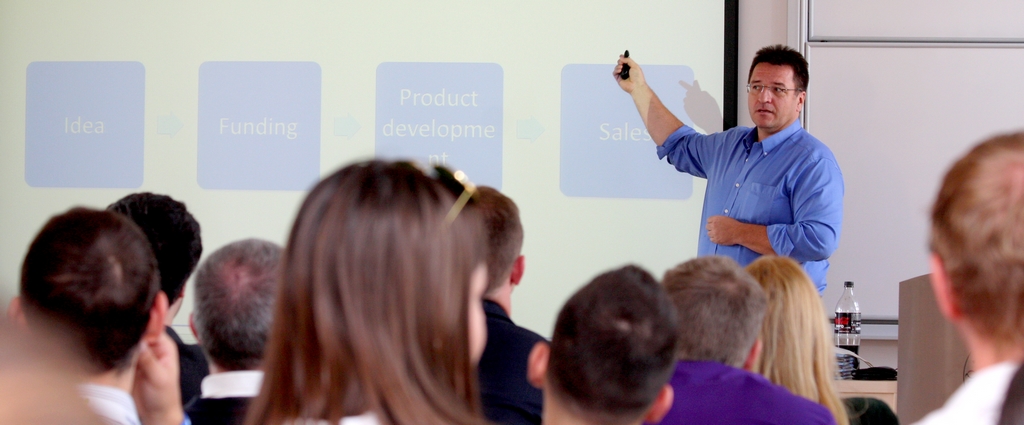 The Simonyi Business and Economic Development Center (Simonyi BEDC) runs an eleven week long idea and business model generation program twice a year for the students, researchers of the University of Pécs. The SIP by its unique and innovative schedule offers a great opportunity for gathering professional experience, getting to know real business projects, analyzing them, and assessing the feasibility of creative entrepreneurial ideas.
SIP uses the business model generation approach of Osterwalder and his colleges to enable the idea owner to finish the program with a validated business model that can serve as the base for further development.
The process involves the idea owner or team if the business idea has been created by many, business students, who assist in the research and validation part of the product, service and business model, a faculty member of the business school who will mentor the team and an outside professional with a focused expertise to support the team with his/her network.
The incubation process requires the team to create the business concept, validate it on a continuous base and to engage in co-learning and co-creation with the other teams of the program. Co-learning and co-creation takes place at occasions when teams meet and discuss relevant issues in relation to their project in the framework of events like the Simonyi BootCamp, the Simonyi Meets the Pros, the Simonyi Brainstorm, …etc. Teams also have to report their level of progression three times during the incubation process in the framework of the so called status reports. The final challenge of the SIP is the Simonyi Final Pitch when the teams have to pitch the idea in 2 minutes to a professional panel that consist of investors, consultants and business professionals. Project owners beside valuable feedback can gain investment, network, and business partners at the end of the Final Pitch. All projects can also participate in the Simonyi International Video Pitch Competition.